Platinum Clean Regatta: Marblehead Junior Race Week
We are excited when any sailor charts their course towards sustainable events, but it is particularly rewarding when the next generation of ocean stewards takes the lead. This is exactly the case with Pleon Yacht Club's Marblehead Junior Race Week (MJRW), which took place July 25-27, 2022. For the second year in a row, this youth regatta earned the Sailors for the Sea Platinum Level Clean Regattas Certification by activating their members to think green when setting out to sail the big blue.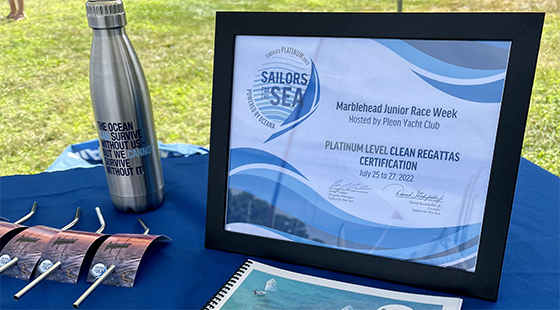 Pleon Yacht Club, located in Marblehead, Massachusetts, is one of the oldest junior yacht clubs in the world, headed by officers and members all under the age of 21. These junior sailors have been putting sustainability on the forefront of their events almost since the inception of the Clean Regattas program. MJRW has been a Clean Regatta for the past 15 years, making it our longest running event. As sustainability volunteer and parent Jean Skaane told us, the kids at Pleon are deeply invested in sustainability since they have spent their lives by the water witnessing environmental impacts firsthand; environmental responsibility is ingrained in their day-to-day activities. In running their club and the MJRW, they take this cause to heart.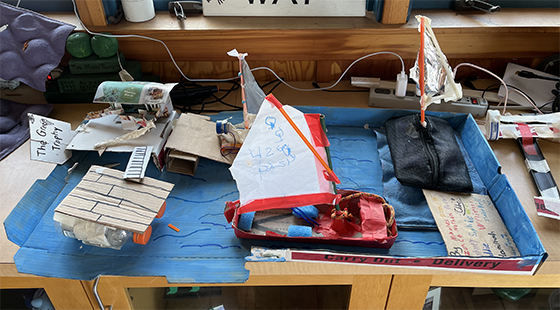 Executing Clean Regattas Best Practices
MJRW checked off almost every best practice to qualify as a Platinum Level Regatta, leaning on their Green Team to do so. This enthusiastic group of kids helped the event run sustainably both on and off the water, from running cleanups around the club to assisting with labeling trailers and moving boats. A supportive team is one of the keys to a fun and successful event. The MJRW Green Team members kept participants on track and helped spread awareness of why best practices needed to be implemented. They even created a sustainability award for the most engaged environmentalist, which they crafted from items picked from the club's trash!  Read on for some of their other effective solutions to several Clean Regatta Best Practices: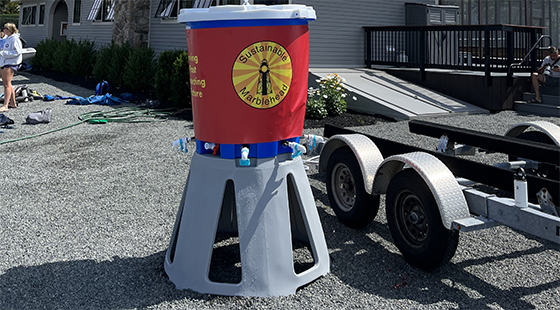 #14: Host a Beach or Marina Cleanup: Before, during, and after the races, the Green Team and volunteers picked up litter from the docks and surrounding areas. On World Ocean Day (June 8), the club held a cleanup where the most commonly found item was plastic zip ties, which led them to make the decision to hang regatta signage using leftover rope instead.
#1: Provide Water Refill Stations: MJRW used a Water Monster where participants could refill their own containers instead of using single-use plastic water bottles. Water was clearly labelled and visible to encourage everyone to stay hydrated and plastic free throughout the event.
#12: Divert Food Waste from the Landfill: Waste stations were set up in key traffic areas across the event, especially near where food was handed out. The Green Team and organizers collaborated with the kitchen staff to eliminate single-use wrappers, reducing waste headed to landfill. For the remaining waste, each station had 3 clearly marked bins for trash, recycling, and compost, all of which were diligently checked by the Green Team.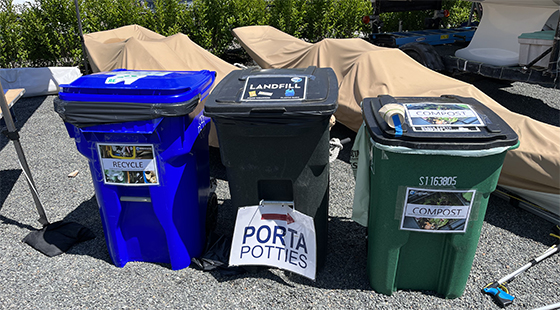 Sailors for the Sea Director Shelley Brown and I attended MJRW to present Pleon Yacht Club with their well-earned certificate and educate the sailors on ocean health topics. We played our "How Long 'til it's Gone?" KELP activity with groups of sailors as they returned from the water, investigating how long it takes for different materials to break down in the environment. Many of the kids were already pros, explaining how litter can produce microplastics and that we can protect the marine ecosystem by refusing single-use items.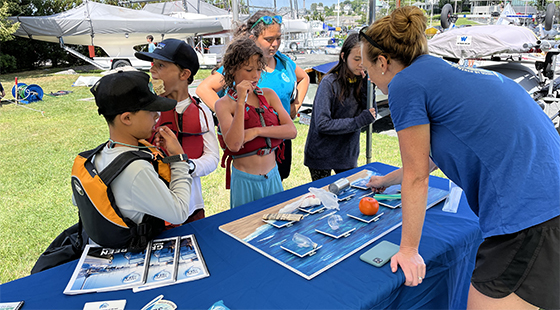 What Comes Next?
Building on the success of MJRW, Pleon Yacht Club is trying to implement sustainable best practices year-round, including minimizing single-use plastics, composting, and educating members on wildlife and habitat protection.
Want to follow in MJRW's footsteps? Find out more about our Clean Regattas program and register your event here.