Committed to the Cause
Debbra Heisler is a committed Clean Regatta organizer from Phoenix, Arizona. She is the Rear Commodore for the Arizona Yacht Club and heads up the Green Team for their Buccaneer North American Championships as well as their AYC Leukemia Cup/Birthday Regatta. Our Program Manager, Paige, had the chance to get Debbra's insight on what it is like to run a successful Clean Regatta on a lake.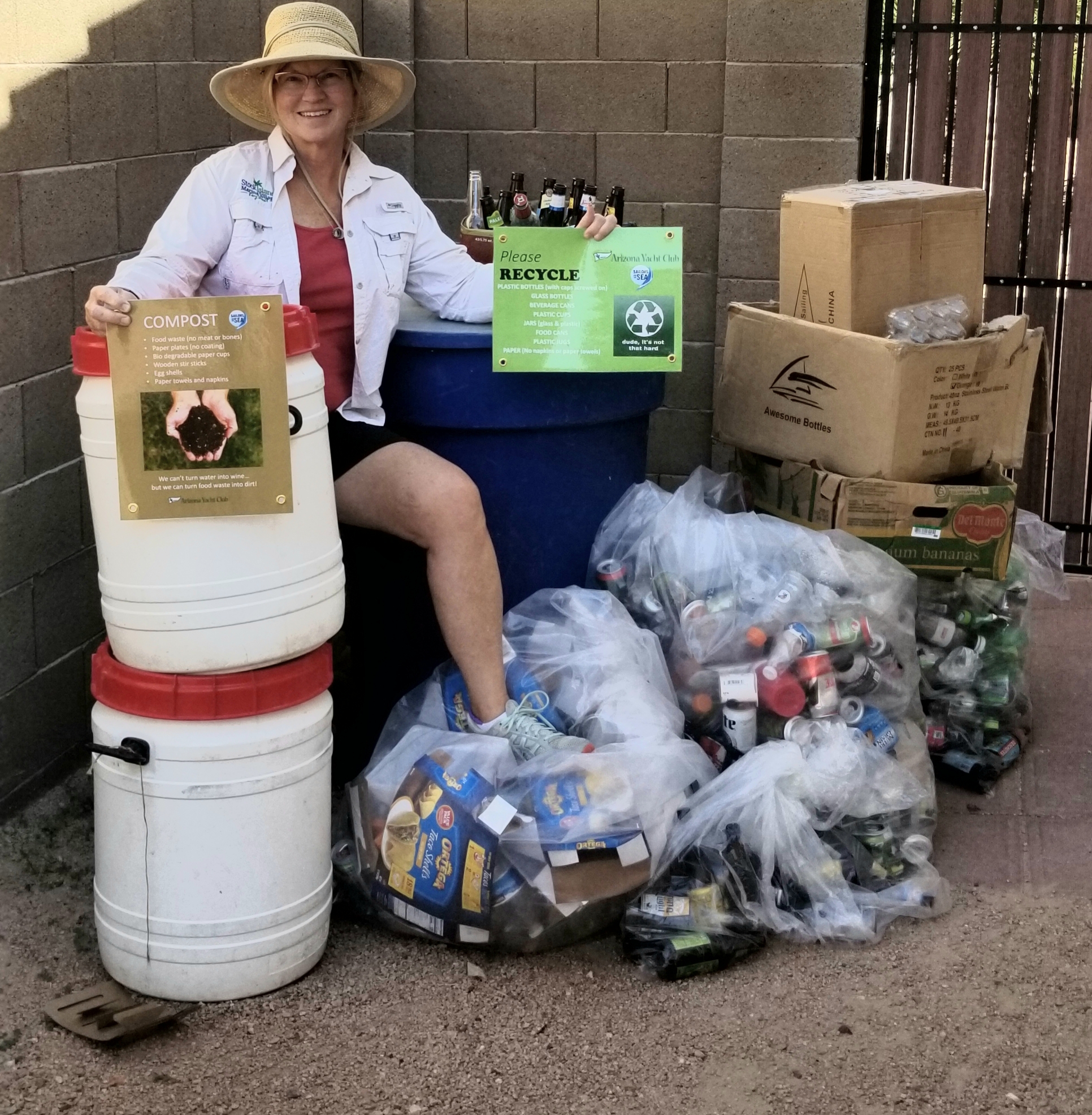 Paige Myatt: Why are you passionate about protecting the marine environment?
Debbra Heisler: If the oceans die, we die. I believe it is as simple as that. I also believe that we humans were directed to be good stewards of this planet and of all life forms that it provides.
PM: Do you have a personal background in sustainability?
DH: I've taught myself about sustainability for use in my daily life. I have no formal education in the field. For me, it seems like common sense. It is a respectful way of living. So many cultures honored what they had by finding good uses for everything.
PM: What are some of the high-level successes you have had in terms of making the events more sustainable?
DH:
Eliminating single-use plastic water bottles: If we were to be successful with the Clean Regattas initiative, the club would need a portable water filtration system. One member of the club was able to quickly craft an idea and get started with its construction. I reached out to another member for advice on how to stow it without damage. The final design is fabulous. We don't have a physical club so our equipment for after-racing social events are stored in a towable trailer. Our filtration system is compact, efficient and has saved us the cost of purchasing single-use bottles for events.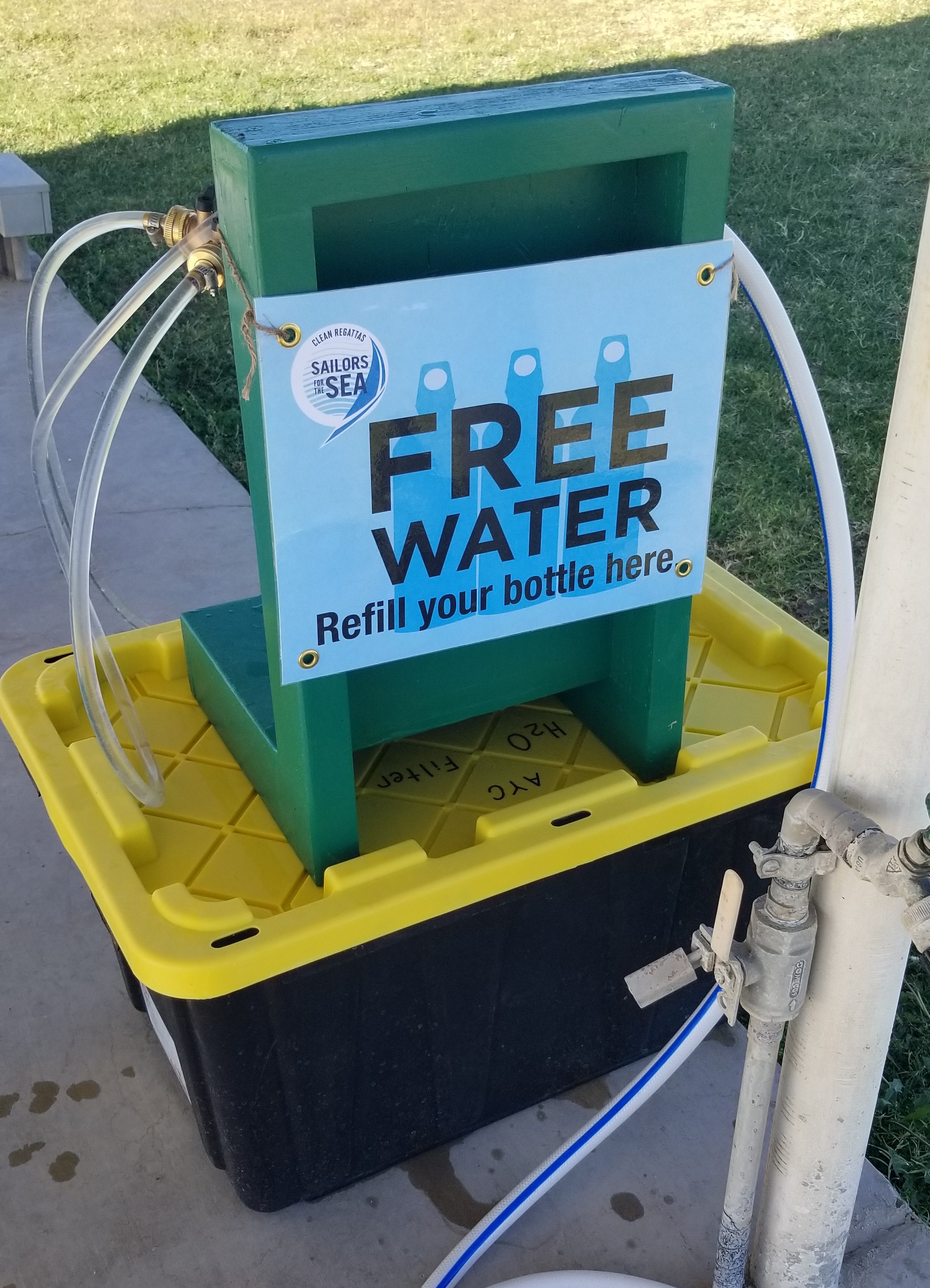 Recycling: Having recycling boxes that are well-marked has made a significant reduction in landfill waste. It is always going to be a challenge to get people to be mindful and put the recyclables, including cans and glass bottles, into the proper containers. It helps to have sorters or just those other mindful folks walking by and basically pulling recyclables out of the one trash bin we have on site.
Composting: Using compostable plates is not too expensive. Napkins can be composted as well as leftover food. With a big event, composting significantly reduces landfill waste. We have a commercial compost facility that I work with to deliver the bins to and from my home as I also use them for my own composting. It has worked well for very little cost and a little effort. I can order 5- or 20-gallon buckets to use and they only charge $10 per bucket. I do glove up and go through the bins after the regatta and prior to pick-up. I want the waste to be pure, compostable material with no plastic tableware or packaging someone has mistakenly thrown in. Mostly, people comply.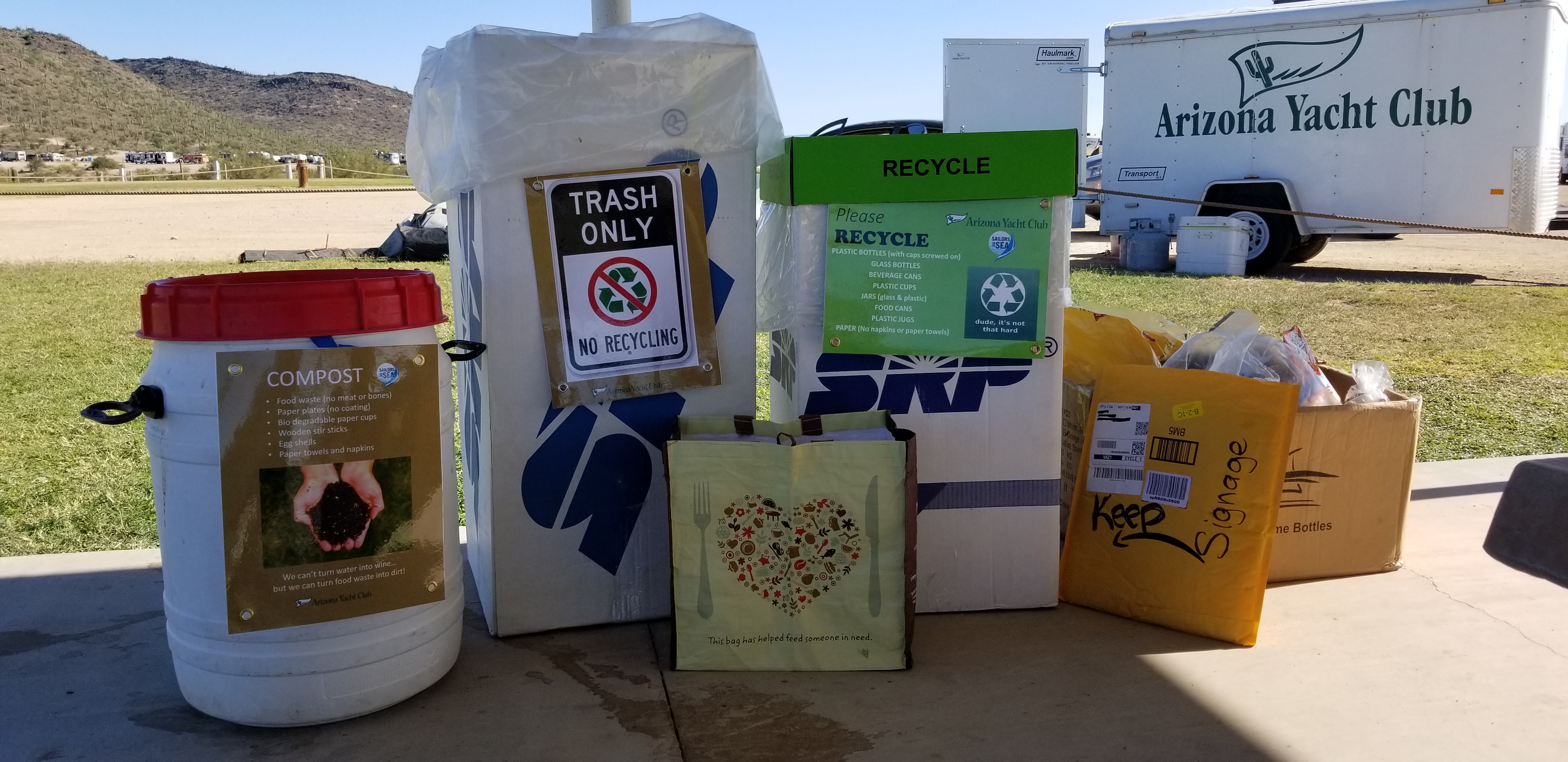 PM: Are there any small changes you have made that are having a big impact?
DH: I believe that keeping the idea of being sustainable in front of people has made a difference. I invited an ocean conservation organization as a guest speaker last year and that meeting was well attended. My goal for this year is to put out more sustainability information at least once a month in our weekly newsletters. We hope to include a paragraph with a link to an informative video or current news article.
PM: Have any of these changes carried over to different events or become permanent changes at the club?
DH: Yes, I believe so. I've been contacted by other organizers wanting to host Clean Regattas. I've been able to help them get access to the water filtration system, recycling boxes, and other materials. We discuss processes and I've drafted up a guideline of sorts that I share with them through email. It's helpful for new volunteers. Because we don't have a permanent club, I've requested that no straws be served during our monthly meetings unless asked for. It is part of our contract with the venue so as managers roles change our requirements are maintained. To date, I've not seen one straw being used.
PM: What are some of the challenges you have faced and how did you overcome them?
DH: Getting volunteers. At social events, most folks have been out on the water all day and have boat things to attend to after racing. It is helpful to announce the Clean Regatta message over and over in the promotional materials. I also remind the race chairperson, my Commodore, or ask for the mic to make a brief announcement about the Clean Regatta and what we need from them to be successful.
PM: Have people been supportive of your efforts to go green?
DH: For the most part, I'd say it has been very positive. We've heard some great feedback during the events. The fact that others are asking about the process of being a Clean Regatta when they host their event supports that it is catching on.
PM: What are the reactions of sailors, club members, and others that attend a Clean Regatta?
DH: I hear voices of gratitude and appreciation. "This is great that you're doing this." "Thank you so much for your efforts." "All the waste has always bothered me." Then there is often engagement about what they currently do in their own homes and it creates for some nice discussion.
PM: What new sustainability initiatives do you want to achieve this year?
DH: Primarily to keep what we've been doing in place. I'd really like to get a commitment from other members to be a part of a Green Team, hold some regular meetings and work collaboratively on an overall green strategy for the year. Part of this would be to organize at least one river cleanup for our members to participate in. An annual event like this serves to enhance our members socializing with a shared purpose, focusing on making a community contribution, and increasing ownership in the green initiative. Another objective is to increase the focus on sustainability education as I mentioned previously.
PM: Do you have advice for other Clean Regatta organizers?
DH: Set the bar high but be realistic in what you can accomplish. Start with a small event. Work out the bugs. Stay positive and let your passion for the planet drive you. Have a plan. Communicate early and often. Use the tools Sailor for the Sea Powered by Oceana has provided, they are great. Get at least one or two more members involved to help with tasks. Ask for help and be willing to give assignments.